Self-developed instruments
To measure lightning parameters at close ranges, the group developed some specific instruments. These instruments shall be portable, EMI compliance and be able to work in extreme conditions.
One of them in to measure electromagnetic and high energy radiation from lightning at close range. The instrument records electromagnetic fields, narrowband microwave emission, x-rays and high-speed video of lightning strikes at close ranges. Additionally background radiation is also recoded.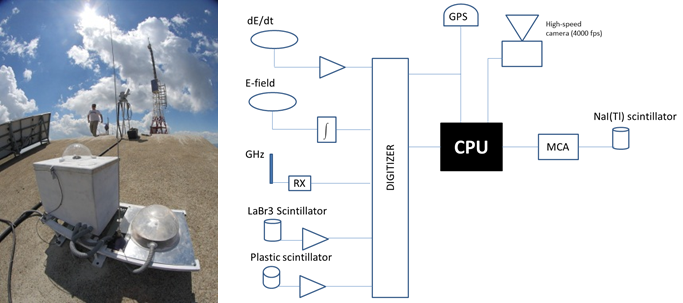 The instrument is itinerant from the Eagle Nest Tower, the Ebro Delta and Pic du Midi (France).

Another developed instrument is to measure high energy emisions from laboratory sparks and streamers. The instrument simultaneously records high energy emisions  (x-gamma rays) by means of a NaI(Tl) and LaBr3 scintilators with narrowband microwave radiation, electric fields, and optical emissions from a photometer.
When we measure in the high voltage laboratory and we need to synchronize different instruments, it is necessary fiber optic links (EMI compliance) to be sure that all of the instruments work together. We develop some links for this task.